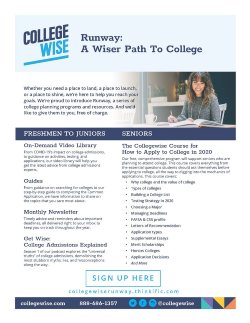 What

Seniors: Collegewise | Runway : a wiser path to college (see flyer for more info)

When

1/13/2021

Where

see flyer for website:
Hey Mustangs!

Our partners at Collegewise have launched Runway, a free series of college planning programs and resources, carefully structured to give students and parents the tips, tools, and timelines they need to reach their college goals in the year (the experience, really) that is 2020. There are specific programs for all high school grade levels and we are one of the very first districts to get access to this programming.



This program is available to all of you and there is no cost for access.



Please see the attached flyer for more details, and to sign up.